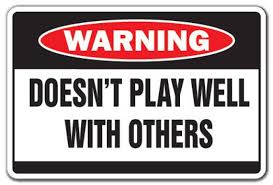 An Ideal Team Player
An Ideal Team Player
Are you a good employee or co-worker? When you show up at work or at home, are people glad you have arrived and are part of their team? Are you a good team player? Do you know how to play well with others? Do you know how to hire people who are solid team players? 
So much of our satisfaction at work is derived from who we work with as well as what we do. Working in a healthy team environment can bring great joy and accomplishment. Conversely, an unhealthy team spends too much time in sideways energy that is frustrating and defeating. It is helpful and humbling for each of us to assess ourselves by asking, "Am I an ideal team player? If we are in a position of leadership, it is crucial to develop the skill of choosing your teammates wisely and helping them grow into better team players. 
The resource I have found most helpful and one I use in my own hiring process is The Ideal Team Player by Patrick Lencioni. I love this author's brevity and clarity. He uses three words to describe the ideal team player: humble, hungry, and smart. If you possess all three qualities, you will be an ideal team player. If you possess only two of the characteristics, you will have a weakness, and some combinations are easier to work with than others. If you only possess one characteristic, you will likely create a difficult, unsatisfying environment for your team where people are not happy when you arrive at work!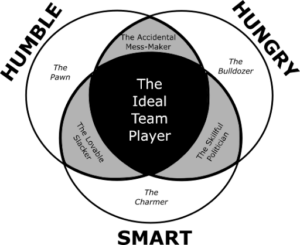 I suggest that you and your team listen to Lencioni's presentation and use the diagram to discuss your strengths and weaknesses. If you are the leader, it is your responsibility to help your team grow in order to create a healthier and more satisfying work environment. We spend so much of our time at work; let's minimize the sideways energy that drains the life out of our teammates or employees.