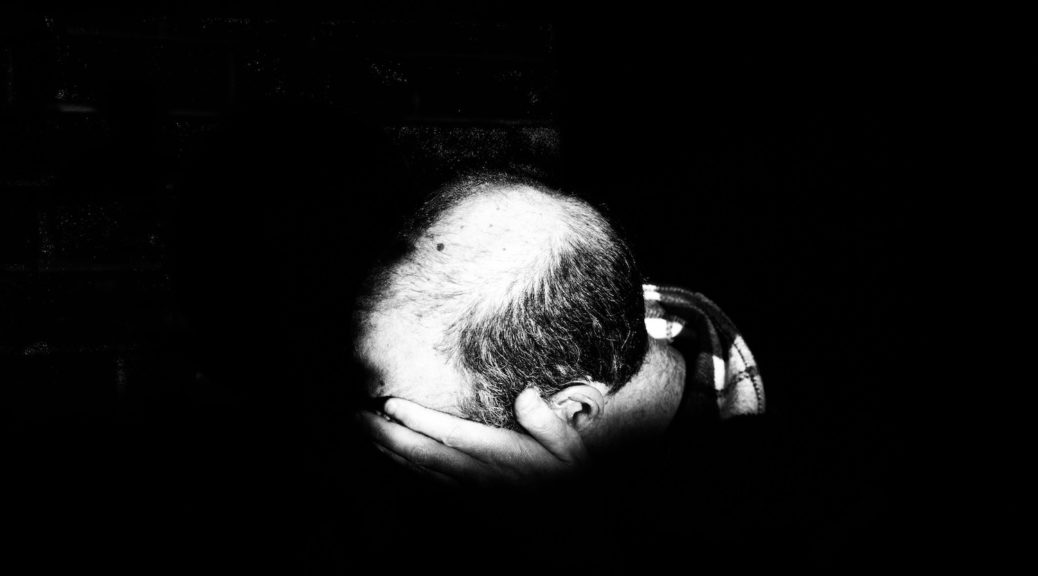 This Iron Leadership Lesson is by Brandon Hart.
---
At our previous Iron Leadership meeting, Paul discussed self-control, and he referenced Titus, chapter 2.  Let's turn there now and highlight something.  You'll notice self-control is used four times in this short chapter. 
But as for you, teach what accords with sound doctrine. 2 Older men are to be sober-minded, dignified, self-controlled, sound in faith, in love, and in steadfastness. 3 Older women likewise are to be reverent in behavior, not slanderers or slaves to much wine. They are to teach what is good, 4 and so train the young women to love their husbands and children, 5 to be self-controlled, pure, working at home, kind, and submissive to their own husbands, that the word of God may not be reviled. 6 Likewise, urge the younger men to be self-controlled. 7 Show yourself in all respects to be a model of good works, and in your teaching show integrity, dignity, 8 and sound speech that cannot be condemned, so that an opponent may be put to shame, having nothing evil to say about us. 9 Bondservants[b] are to be submissive to their own masters in everything; they are to be well-pleasing, not argumentative, 10 not pilfering, but showing all good faith, so that in everything they may adorn the doctrine of God our Savior.
11 For the grace of God has appeared, bringing salvation for all people, 12 training us to renounce ungodliness and worldly passions, and to live self-controlled, upright, and godly lives in the present age, 13 waiting for our blessed hope, the appearing of the glory of our great God and Savior Jesus Christ, 14 who gave himself for us to redeem us from all lawlessness and to purify for himself a people for his own possession who are zealous for good works.
15 Declare these things; exhort and rebuke with all authority. Let no one disregard you.
You'll see that in verse 2, he tells older men to be self-controlled. In verse 5, it's older women. Verse 6, it's young men. In verse 11, it appears as if he's saying, "in case you missed something, here's a summary, be self-controlled.
This scripture is especially helpful as we look at today's topic. If you think you can fight it alone, let me give you some history. This is something that took down three of the most powerful men in the bible:  Samson (the strongest man), Solomon (the wisest man) and David (a man after God's own heart). 
Today's topic is a tough one, especially for men; lust.  Now when I say the word "lust," I know immediately what you are thinking, because I'm thinking the same thing.  Something sexual.  But understand that lust doesn't have to be sexual.
What is Lust?
So what is lust?  Lust is a strong desire (it literally means OVER-desire).  It pulls your heart to need to have something, no matter what God says, or what the cost is to other people.
So my first question to you is, what is it that you feel you need today, to be fulfilled, to be blessed?  Is that need connected to something in your heart that is running wild?
In our members there is a slumbering inclination toward desire, which is both sudden and fierce.  With irresistible power, desire seizes mastery of the flesh.  All at once a secret, smoldering fire is kindled.  The flesh burns and is in flames.  It makes no difference whether it is a sexual desire, or ambition, or vanity, or desire for revenge, our love of fame and power, or greed for money…At this moment God is quite unreal to us.  He loses all reality…The only reality is the devil.  Satan does not here fill us with hatred of God, but with forgetfulness of God…The lust thus aroused envelopes the mind and will of a man in deepest darkness.  The powers of clear discrimination and of decision are taken from us.  The questions present themselves as, "Is what the flesh desires really sin in this case?"  And, "Is it really not permitted me, yes, expected of me now, here in my particular situation to appease desire?" – Dietrich Bonhoeffer
As we discuss lust today, we are going to look at it from three different angles:  (1)  What does Solomon say? (2) What does Jesus say? and (3)  The destructive power of lust: the story of David and Bathsheba.
What does Solomon say?
Proverbs 7:
 My son, keep my words
and treasure up my commandments with you;
2 keep my commandments and live;
keep my teaching as the apple of your eye;
3 bind them on your fingers;
write them on the tablet of your heart.
4 Say to wisdom, "You are my sister,"
and call insight your intimate friend,
5 to keep you from the forbidden[a] woman,
from the adulteress[b] with her smooth words.
6 For at the window of my house
I have looked out through my lattice,
7 and I have seen among the simple,
I have perceived among the youths,
a young man lacking sense,
8 passing along the street near her corner,
taking the road to her house
9 in the twilight, in the evening,
at the time of night and darkness.
10 And behold, the woman meets him,
dressed as a prostitute, wily of heart.[c]
11 She is loud and wayward;
her feet do not stay at home;
12 now in the street, now in the market,
and at every corner she lies in wait.
13 She seizes him and kisses him,
and with bold face she says to him,
14 "I had to offer sacrifices,[d]
and today I have paid my vows;
15 so now I have come out to meet you,
to seek you eagerly, and I have found you.
16 I have spread my couch with coverings,
colored linens from Egyptian linen;
17 I have perfumed my bed with myrrh,
aloes, and cinnamon.
18 Come, let us take our fill of love till morning;
let us delight ourselves with love.
19 For my husband is not at home;
he has gone on a long journey;
20 he took a bag of money with him;
at full moon he will come home."
21 With much seductive speech she persuades him;
with her smooth talk she compels him.
22 All at once he follows her,
as an ox goes to the slaughter,
or as a stag is caught fast
23     till an arrow pierces its liver;
as a bird rushes into a snare;
he does not know that it will cost him his life.
24 And now, O sons, listen to me,
and be attentive to the words of my mouth.
25 Let not your heart turn aside to her ways;
do not stray into her paths,
26 for many a victim has she laid low,
and all her slain are a mighty throng.
27 Her house is the way to Sheol,
going down to the chambers of death.
Verse 26 is incredibly sobering: "for many a victim she has laid low." Verse 27 brings up an important question, what is Sheol?
"Sheol," refers to the grave or the abode of the dead. Through much of the Old Testament period, it was believed that all went to one place, whether human or animal, whether righteous or wicked. No one could avoid Sheol, which was thought to be down in the lowest parts of the earth.
Unlike this world, Sheol is devoid of love, hate, envy, work, thought, knowledge, and wisdom. Descriptions are bleak: There is no light, no remembrance, no praise of God — in fact, no sound at all. Its inhabitants are weak, trembling shades who can never hope to escape from its gates. Sheol is like a ravenous beast that swallows the living without being sated. 
This dark, bleak, place, according to Solomon, is at the end of the road of lust.
What does Jesus say?
We will read from Matthew 5:27-30. Jesus talks about lust right after he talks about anger.
27 "You have heard that it was said, 'You shall not commit adultery.' 28 But I say to you that everyone who looks at a woman with lustful intent has already committed adultery with her in his heart. 29 If your right eye causes you to sin, tear it out and throw it away. For it is better that you lose one of your members than that your whole body be thrown into hell. 30 And if your right hand causes you to sin, cut it off and throw it away. For it is better that you lose one of your members than that your whole body go into hell.
From this passage, I want to make three important observations:
Your sin is both more deeply widespread and more deeply rooted than you think.

Sexual sin is serious.

In order to fight lust (in all its forms) we are going to need the strength that Christ provides.
The reason that a look of lust is the same as the act of adultery, is that they both spring from a heart that wants to take something and doesn't care what promises it has to break.  The lustful heart wants what the lustful heart wants, and whether you're breaking a covenant with God for an action or a thought, it really doesn't matter.  The damage has been done.
The reason that a look of lust is the same as the act of adultery, is that they both spring from a heart that wants to take something and doesn't care what promises it has to break.
What Jesus is inviting us to do is not mutilation, but mortification (putting something to death).  Putting sin to death means totally making a break from sinful practices.
So my next question to you is, is there something you need to make a break with today?  Is there a place you go that tempts you to sin?  Some activity that you need to end?  A relationship that is coming between you and Jesus?
The Destructive Power of Lust: David and Bathsheba
Now we'll look at 2 Samuel 11. Already in verse 2, I have a bad feeling about this:
2 It happened, late one afternoon, when David arose from his couch and was walking on the roof of the king's house, that he saw from the roof a woman bathing; and the woman was very beautiful. 3 And David sent and inquired about the woman. And one said, "Is not this Bathsheba, the daughter of Eliam, the wife of Uriah the Hittite?" 4 So David sent messengers and took her, and she came to him, and he lay with her. (Now she had been purifying herself from her uncleanness.) Then she returned to her house. 5 And the woman conceived, and she sent and told David, "I am pregnant."
6 So David sent word to Joab, "Send me Uriah the Hittite." And Joab sent Uriah to David. 7 When Uriah came to him, David asked how Joab was doing and how the people were doing and how the war was going. 8 Then David said to Uriah, "Go down to your house and wash your feet." And Uriah went out of the king's house, and there followed him a present from the king. 9 But Uriah slept at the door of the king's house with all the servants of his lord, and did not go down to his house. 10 When they told David, "Uriah did not go down to his house," David said to Uriah, "Have you not come from a journey? Why did you not go down to your house?" 11 Uriah said to David, "The ark and Israel and Judah dwell in booths, and my lord Joab and the servants of my lord are camping in the open field. Shall I then go to my house, to eat and to drink and to lie with my wife? As you live, and as your soul lives, I will not do this thing." 12 Then David said to Uriah, "Remain here today also, and tomorrow I will send you back." So Uriah remained in Jerusalem that day and the next. 13 And David invited him, and he ate in his presence and drank, so that he made him drunk. And in the evening he went out to lie on his couch with the servants of his lord, but he did not go down to his house.
14 In the morning David wrote a letter to Joab and sent it by the hand of Uriah.15 In the letter he wrote, "Set Uriah in the forefront of the hardest fighting, and then draw back from him, that he may be struck down, and die." 16 And as Joab was besieging the city, he assigned Uriah to the place where he knew there were valiant men. 17 And the men of the city came out and fought with Joab, and some of the servants of David among the people fell. Uriah the Hittite also died. 18 Then Joab sent and told David all the news about the fighting. 19 And he instructed the messenger, "When you have finished telling all the news about the fighting to the king, 20 then, if the king's anger rises, and if he says to you, 'Why did you go so near the city to fight? Did you not know that they would shoot from the wall?21 Who killed Abimelech the son of Jerubbesheth? Did not a woman cast an upper millstone on him from the wall, so that he died at Thebez? Why did you go so near the wall?' then you shall say, 'Your servant Uriah the Hittite is dead also.'"
22 So the messenger went and came and told David all that Joab had sent him to tell. 23 The messenger said to David, "The men gained an advantage over us and came out against us in the field, but we drove them back to the entrance of the gate. 24 Then the archers shot at your servants from the wall. Some of the king's servants are dead, and your servant Uriah the Hittite is dead also." 25 David said to the messenger, "Thus shall you say to Joab, 'Do not let this matter displease you, for the sword devours now one and now another. Strengthen your attack against the city and overthrow it.' And encourage him."
26 When the wife of Uriah heard that Uriah her husband was dead, she lamented over her husband. 27 And when the mourning was over, David sent and brought her to his house, and she became his wife and bore him a son. But the thing that David had done displeased the Lord.
My final question is what can you implement at that moment of temptation, "late, one afternoon"?  What's your game plan?