IL 1/18/23: Moses's Personal Formation
IL 1/18/23: Moses's Personal Formation
(Read Audio Transcription Below)
Review: The Mother of all Learning is Repetition 
For the first half of the year, we completely focused on Moses's personal spiritual formation. We made it our main focus because if Moses doesn't understand himself, if he can't lead himself, if he doesn't know God or where God is going….he cannot lead others successfully. 
Unfortunately, for 40 years, Moses learned one way of leadership from Pharoah – Power and Position. So God puts Moses in the furnace – a desert to recast him into the leader God wants him to become. 
It takes time and practice (40 years for Moses) to develop new habits and new rhythms to overcome previously ingrained faulty relational, spiritual, and leadership habits. 
Video: The Backwards Bicycle
Turns out that changing an ingrained habit is much harder than you might imagine. I practiced 5 minutes every day for 8 months. Creating a new pathway takes time.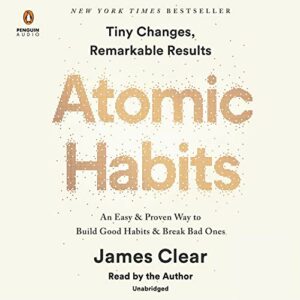 "You don't rise to the level of your goals but fall to the level of your systems." –Atomic Habits by Jame Clear
What system/habit can you practice for 5 min everyday that will eventually re-wire your thinking and cause change? Example: The guy in the atomic habits podcast started going to the gym 4 days a week for a maximum of 5 minutes, but he didn't miss – he eventually reached his goal!
So I want to spend time reviewing and asking you to answer the question of:
Where do I still need practice or rewiring? 
1. Exodus 1 – Sensing a Change in Seasons: 
Recall – Israelites arrived in Egypt to avoid starvation. Jacob's son, Joseph had been sold into slavery by his 11 older brothers ….turned out in God's plan, Joseph had actually been sent ahead in order to save his family from starvation.

 

Yet – in (Exodus 1:8) a change is taking place: A new King came and instead of being guests, the Hebrews become slaves. Egypt, once the place of rescue becomes a place of ruin. Something needs to change – it's time to leave.
First Question: Is there any place in your life/business/family where you sense a shift or a change of seasons? Maybe you are in a system or habit or relationship which were once healthy but now you sense a need for change. 
– Leadership: "What got you here and what won't get you there?" 
– Sticky Teams: Church Leadership – "A storefront church, midsize church, large church, and mega church are not simply bigger versions of the same thing – they are completely different animals." Maybe your business has grown yet you maintain the same system and are hanging onto to your old system and it is leading you to ruin.
– Failure to sense change or to have willingness to change: Yourself or your business: Example – Blockbuster: Former CEO – "Redbox and Netflix were no where on my radar screen in terms of competition" What a MISS! …  in 2010 they filed for bankruptcy with 900 million in debt! 
– Changing Relational Systems: Single different than married, Married and no kids different than having kids, children are different than teens, teens are different than adults – you can't parent the same. 
Question: Any place you sense a need for change….do you feel like you have the habits and courage to embrace it?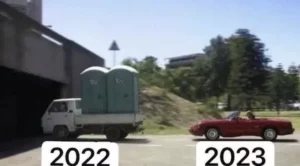 Anything you need to change as you enter into 2023…before 2022 dumps it's crap on you? 
2. Exodus 2 – Are you Emotionally and Spiritually ready for Leadership? 
Moses wasn't ready 
It seems like Moses would be primed and ready for leadership. He was 40 years old, received the best education, in great physical shape, had the most powerful mentors….yet he was still emotionally immature for what God had in mind. 
You can have a degree from Wharton or Kenan- Flagler, you can be in great physical shape, have excellent mentors, yet still be emotionally immature and that one liability will greatly limit or even prevent you from becoming a leader. High IQ + Low EQ = Big Problem 
In Exodus 2, Moses sees an Egyptian soldier beating a Hebrew slave and decides to kill the soldier. Although we appreciated Moses compassion – his response was disproportionate to the problem. His response created a bigger problem!
Prov 29:11– "A fool gives full vent to his anger, but a wise man keeps himself under control." 
This lack of emotional control – especially anger shows up in men with great frequency. 
Colossians 3:19 "Husbands, love your wives, do not be harsh with them"

 

Ephesians 6:4 – "Fathers, do not provoke your children to anger"
Application: O…How many times have you seen a problem correctly – but you lack self-control or wise direction and your response makes the problem worse! — Seeing the problem correctly is only a portion of the solution. 
Patrick Lencioni: Ideal Team Player
3 character traits of the Ideal Team Player are to be humble, hungry and smart (EQ). Lencioni has names for those out of balance: hungry/hard worker and wants things to change NOW – but not smart (EQ) or humble (emotional control))… he calls that a BULLDOZER.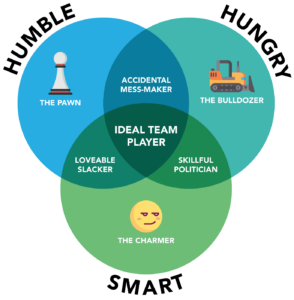 How many know a Bulldozer….maybe your dad was a Bulldozer! Bulldozers don't make good dads or team members. 
We know it….but Moses doesn't. Think about how many emotionally stressful situations Moses was going to face in his lifetime: Think about how many times Moses was going to face a situation that he wished would change RIGHT NOW! Moses had Pharoah and led stubborn people for 40 years in the desert. He must learn emotional control before he can be a great leader. 
Emotions/feelings are wonderful, but they don't always make great guides. Emotions are like a 2 year old in car. We put them in the car, not the trunk (We don't stuff them!) But we don't allow them to drive the car! 
Second Question: Is there any place or any area needing your attention in regards to emotional control (anger, lust, pride, greed, depression, laziness), any emotion trying to hi-jack your life and take control? What people or counsel or experiences or discipline do you need in order to change? 
3. Exodus 3 – Learning to Turn: (3:3-4) 
Notice the order: There is a cause & effect between Moses' willingness to pay attention and God's willingness to speak! – Moses turned aside – then the Lord spoke.
– This is the KEYSTONE Habit! You must have or develop the habit of turning away from your world/phone/business in order to hear from God. Moses's old habit was to turn toward the world, turn toward power, and turn toward his emotions. He had to learn to turn toward God. 
One reason this habit of turning toward the Lord was so critical for Moses is evident in Exodus 6:9:
"Moses spoke to the people of Israel, but they did not listen – because of their broken spirit & harsh slavery." –Exodus 6:9
The world of slavery was also a habit-forming machine – their brokenness didn't allow them to hear God! So they needed a guide who understood. Moses knew what brokenness was like and how to turn and find God – so he would be an excellent guide to them. 
Exhortation to Leaders: People are exhausted, afraid, and locked into all kinds of slavery. Dads – your children are immersed in a habit-forming world-YOU CAN BE THE GUIDE TO A BETTER WAY TO LIVE. You can help people find God.

 

But you must first turn aside and see the Lord!
Questions: 
1. Is there any place in your life/business/family where you sense a shift or a change of seasons? What system or habit needs to be developed or changed to help you be ready for the change? 
2. Any emotion trying to hi-jack your life and take control? What people, counsel, experiences or discipline do you need in order to change? 
3. Do you agree that "learning to turn" is a keystone habit? How might strengthening this habit make you a better guide for others? 
Iron Leadership Materials: