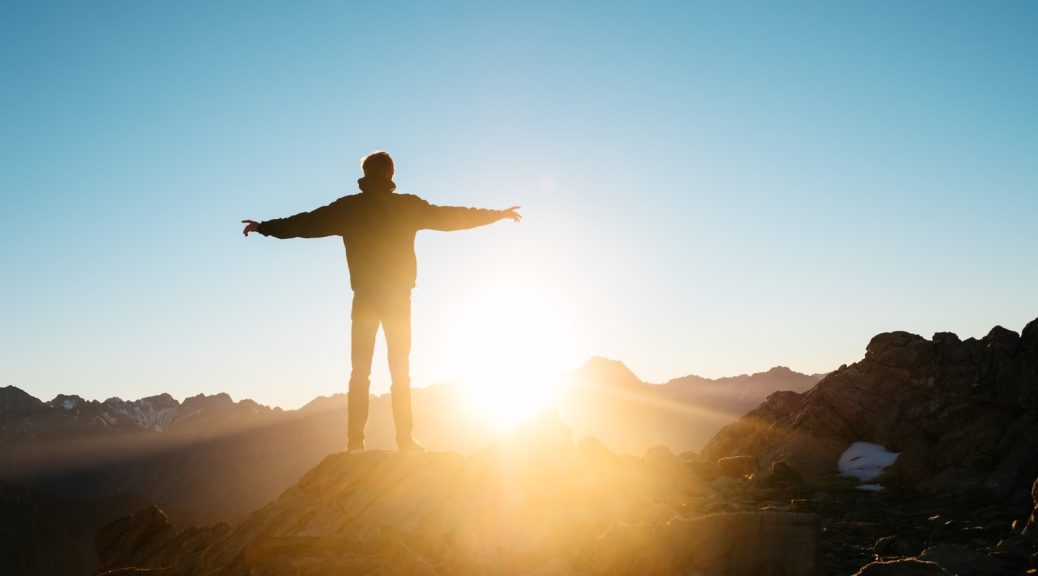 The Keystone Habit of Worship
The Keystone Habit of Worship
This year we are focusing on building our Interior Wall. The goal is that no matter what external challenge you face, you will be internally prepared. The question is: how do you build interior walls? What character traits and habits can prepare you for the storms you face as a leader?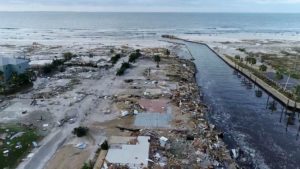 Take this picture of Mexico Beach after Hurricane Michael as a mental image.
The surface winds of our culture are picking up for those who follow Jesus. As leader, how are we constructing lives that can remain standing in the hurricane force winds?  Our primary reinforcement, our main piling. . .is Worship!   Worship is a "KEYSTONE" habit, the habit which unleashes a string of good habits.   
1. Worship Defined
Definition: The internal treasuring of the true God above all things. (or) The internal hunger & thirst for the true God above all things.
Jesus encounters the woman at the well. This is a woman with misplaced hungers (she had 5 husbands).  John 4:23 – "True worshipers will worship the Father in spirit and truth, for they are the kind of worshipers the Father seeks."
"in truth" – We all know it's possible to treasure or hunger for things other than God. That's called idolatry. Jesus says in John 8:31 – "If you hold to my teaching, you are really my disciples. Then you will know the truth, and the truth will set you free." – Worshipping what is true sets you free. Jesus is trying to set the Woman at Well free. 
 "in spirit" – Worship affects your inner being, your heart, the part of the Iceberg that is underneath the surface. It's what moves you forward. True worshippers worship not only in truth but "in spirit."
Heed this warning: Matt 15:8 – "These people honor me with their lips, but their hearts are far from me. They worship me in vain…" — It's possible to say true things about God, but if your heart is not affected, then it's in vain.
2. Worship Observed
Let's look at Psalm 95: 1-7, a classic Psalm about worship and make some observations.
Oh come, let us sing to the Lord;
    let us make a joyful noise to the rock of our salvation!
2 Let us come into his presence with thanksgiving;
    let us make a joyful noise to him with songs of praise!
3 For the Lord is a great God,
    and a great King above all gods.
4 In his hand are the depths of the earth;
    the heights of the mountains are his also.
5 The sea is his, for he made it,
    and his hands formed the dry land.
6 Oh come, let us worship and bow down;
    let us kneel before the Lord, our Maker!
7 For he is our God,
    and we are the people of his pasture,
    and the sheep of his hand.
Observation 1: Worship Involves the Whole Person

Emotions (Vs. 1-2): Look at all of the emotional activity mentioned in these verses. Sing, Joyful, Thanksgiving, Praise.  David was one of the greatest leaders and one of the greatest worshippers of God…so it's possible to be both. I hope you realize that the same can be true today.
I love the conversion of John Wesley (the founder of Methodism). He was a missionary to America yet unconverted. Let that sink in for a moment. What caught his attention was the worship of Moravian Missionaries. It was connected to their heart. When he returned to England, he heard the Gospel in a freeing way and his description was this: "My heart was strangely warmed."
Mind (Vs. 3-5): David takes inventory of the truth about God, he rolls them over and over in his mind. The Lord is Great, King above all gods, he formed everything by his hands and everything fits into his hands.   He seems to be reminding himself of the Creativity, Power and Authority of God.
If you are a Christian and you are dealing with enslaving habits, it's not enough to say, "Bad Christian, stop it." And it is not enough to beat yourself up or merely try harder and harder.— The real reason you're having a problem with an enslaving habit is because you are not tasting God. I'm not talking about believing God or even obeying God, I'm saying tasting — tasting God.

The secret to freedom from enslaving patterns of sin is worship. You need worship. You need great worship. You need weeping worship. You need glorious worship. You need to sense God's greatness and to be moved by it — moved to tears and moved to laughter — moved by who God is and what he has done for you. And this needs to be happening all the time.

This type of worship is the only thing that can replace the current fire burning in your heart. We need a new fire that says, "I saw the Lord, he was close to my heart, I see him to be as great as I know him to be. When that fire is burning in your heart, then you are free."

– Tim Keller on worship
Will (Vs. 6-7): "Bow down, kneel, we are sheep" Part of worship is submitting your will to his. We see this in the Lord's prayer, "Our Father, which art in heaven, Hallowed be thy Name. Thy Kingdom come. Thy will be done," This is so difficult because our culture constantly offers other, attractive ways to live, to find life.  Proverbs 14:12 – "There is a way that seems right to a man, but in the end it leads to death."
Question: Worship involves the Emotions, Mind, & Will – Which one is most difficult for you? Why?
Everybody worships. Look at vs. 3, "Above all gods." You will either worship the one tire God or another god…humans are designed to worship. It is not whether you will worship or not, but what you will worship.
David Foster Wallace was novelist and a professor, but not a Christian. Even he seemed to understand this:
Everybody worships. The only choice we get is what to worship. And the compelling reason for choosing some sort of god or spiritual-type thing to worship…is that pretty much anything else you worship will eat you alive. If you worship money and things, if they are where you tap real meaning in life, then you will never have enough … Worship your body and beauty and sexual allure and you will always feel ugly. And when time and age start showing, you will die a million deaths …Worship power, you will end up feeling weak and afraid, and you will need ever more power over others to numb you to your own fear. Worship your intellect, being seen as smart, you will end up feeling stupid, a fraud, always on the verge of being found out. But the insidious thing about these forms of worship is…they're unconscious. They are default settings.
They aren't freeing, but enslaving. They eat you alive.
3. 2 Key Components of Worship
It's Corporate

It's strangely easy to miss in Psalm 95: "Let us (6x), our God, we are his people" — The reason we easily miss it is because we live in a highly individualized society…we read the Bible through an individual lens…which is completely foreign to the people in the Bible.
CS Lewis was i a close circle of friends known as the Inklings. The group included Jack Lewis, J.R.R Tolkein (Ronald), and Charles Williams, who died unexpectedly. Here is Lewis' reflection:
"In each of my friends there is something that only some other friend can fully bring out. By myself I am not large enough to call the whole man into activity; I want other lights than my own to show all his facets. Now that Charles is dead, I shall never again see Ronald's [Tolkien's] reaction to a specifically Charles joke. Far from having more of Ronald, having him "to myself" now that Charles is away, I have less of Ronald …In this, Friendship exhibits a glorious "nearness by resemblance" to heaven itself where the very multitude of the blessed actually increases the realization each of us has of God. For every soul, seeing Him in her own way, communicates that unique vision to all the rest. — Lewis is saying it took a community to know an individual. How much more would this be true of Jesus Christ?"
It's Also Individual
Worship will cost you something. Sleep, time in front of a screen, or getting something else done. As leaders, if we expect to build a strong house for our souls…a house that can withstand hurricane force winds from the culture, it won't be without great cost.
Discussion Questions:
Worship involves: Emotions, Mind & Will – Which one is most difficult for you? Why?

Why is worship the answer to the enslaving power and patterns of sin?

Talk about the strength or weakness of your Corporate and Individual worship habits.