The Most Important Gauge
The Most Important Gauge
What we have in Mind
"Be watchful, stand firm in the faith, act like men, be strong." – 1 Corinthians 16:13
The Apostle Paul uses all familiar military terms to close out his letter to those who live in a very pagan culture. Just knowing these are military terms helps you understand what Paul thinks of how you make progress in Spiritual Maturity. It will be a battle.
Watchful – Like a Sentinel standing guard over your soul or others. Stay awake.
Stand Firm – There are positions you will have to take and not give ground. People and Culture will push you, fight you, undermine you, shame you, to get you to give ground on the truth of the Gospel and the truth in the Bible. Stand Firm!
Be Strong – Let's be careful here and think through what it looks like to "Be Strong" in the Christian life. The Cross, lay down your life, and the Sword, the Word of God.
Act like Men – Paul is generally saying: "It's time to grow up, to act Mature." Dave Ramsey puts it this way "Adults devise a plan and follow it. Children do what feels good." It's time to devise a plan and follow it rather than just doing what feels good. Pail specifically had men in mind who in the Corinthian culture, which was marked by an emphasis on Sex, Sports, Money and Popularity, the men specifically displayed a lack of immaturity. They got captured on the surface and never grew deep roots, never grew in maturity.
The Most Important Gauge
In December 28th, 1978 United Flight 173 took off from Denver headed to Portland, Oregon. When it took off it was loaded with 46,000 pounds of fuel, which was enough for the flight plus and additional 65 minutes of flying time. As it approached Portland airport and opened the landing gear a problem popped up, a wheel lock indicator light failed to come on. The crew could visually confirm the wheel had drop out of its wheel well but couldn't be sure if the wheel was in the locked position. So
United 173 radioed the tower to let them know they would enter into a holding pattern to see if they could address the problem. As airplane problems go, this could be a significant problem yet most likely the indicator light was damaged, and the wheel was in the lock position. Even if it wasn't, the plane would grind to a halt on the landing strip. Not ideal but not life threatening.
During the holding pattern the crew discussed various scenarios, prepared the cabin and passengers for the potential of a hard landing and how to exit the plane in case of an emergency.
As the plane approached the runway another flight was making its approach so United 173 yielded, circled again and reviewed the hard landing procedures. When they prepared to landing for the third time the captain was confident they had covered all the potential problems thoroughly. The crew of United 173 had spent the last 70 minutes addressing the problem. Tragically the Captain had become so focused on working on a problem he lost track of the most important and basic gage in front of him, the fuel gage. On their final approach they lost all 4 engines and crash landed in a wooded field. Two houses were ripped apart; 10 people died, 24 people were seriously injured. The plane was destroyed.
In working on Significant problems the Captain lost focus on The Most Important Gage: Fuel. Everyone in this room this morning is working on Significant Problems, and likely multiple Significant Problems. So frequently those significant problems distract us from the most important gage. The Most Important Gage is your soul's connection with Jesus.
"As the deer pants for streams of water so my soul pants for you O God. My Soul thirsts for God." – Psalm 42
When you run out of fuel for your soul, greater damage happens: people, businesses, teams, families, marriages are critically injured.
"Come follow me and I will make you fisher of men." – Mark 1: 17
What a call by Jesus, to engage in the eternal destinies of men & women and consider all the chaos & significant problems the disciples are going to encounter in their effort!
But what's the priority in Jesus' call? "Come follow me!" If this gauge is empty then you won't successfully be landing the plane with the souls of men.
Jesus was asked: "What is the greatest commandment?" He answered "Love the Lord your God with all your heart, soul, mind and strength. The second is this: Love your neighbor as yourself" – Mark 12
Before you can successfully enter into the significant problems of other people and not do damage, Jesus tells us the Most Important Gauge is that we must have Fuel. We must first Love God.
Mark 1:32-38
Jesus Re-fuels. I would say that Jesus is dealing with Significant problems, various diseases and a demon possessed man. Not to mention the pressure and temptation of  "Everyone is looking for you." Notice this:
Jesus finds time to refuel- no one in this room was under more pressure than Jesus and yet he still made it a priority to re-fuel
Re-fueling sends Jesus in a different direction- I wonder how many opportunities I have missed by not first following Jesus?
In vs. 36  Simon and Peter are specifically mentioned- Peter  found Jesus praying, resisting the pressure of the crowds, moving in a different direction. It's like a personal lesson for him.

See Mark 14: 37-38 & 66-68 Peter simply doesn't have the fuel, and he doesn't fall to the pressure of a crowd of "everyone" but the crowd of just one servant girl.
Mark 9:17-18
The Disciples couldn't land the plane with this boy. Why? In vs. 28-29 we find the answer. The disciples mistakenly thought they didn't need any divine fuel in order to help this boy, they neglected even to pray! They had no fuel to tackle the most significant problem!
Questions:
 When you think about yourself and assess yourself – is your assessment based more on your inner world or outer world? If we could put a gage on your soul what would it tell us? Empty/Full?
It's very easy to think that an upgrade in your outer world will bring a quick upgrade in your inner one – "I am more important, have more responsibility so I am more content inside. Happier/Fulfilled. Yet it doesn't work that way: Business, complexity and responsibility often become a private blizzard which makes it hard navigate your internal world. Jesus avoided the blizzard in Mark 1 by taking time away from the outer world.
How do you re-fuel your soul? If you were to assess the inner gauge of your soul and see that it's empty – Do you know how to refuel?Mark 8: 36 – "What good is it for a man to gain the whole world yet forfeit his soul" – Many men make plans to gain things in the world yet don't know how to make gains in their soul so the soul is forfeited.
Do you have outside help in watching the fuel gage on your soul? When you read a bit more about United flight 173 – one thing you discover is that the Co-pilot and Fight Engineer both were concerned about the lack of fuel, but they way authority was structured they were reluctant to speak clearly and forcefully about the situation to the captain.Try to imagine: You see the fuel running low, YOU ARE IN THE PLANE and your life is on the life! Yet the captain isn't really paying much attention to your concerns. Many Men structure their lives this way. They don't allow others to have a big enough voice in their lives to sound the ALARM!
Friends and Brothers,
Paul Phillips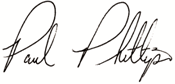 Pastor, Christ Community Church
www.ironleader.org
paul@cccwnc.com
Subscribe to our Apple Podcast